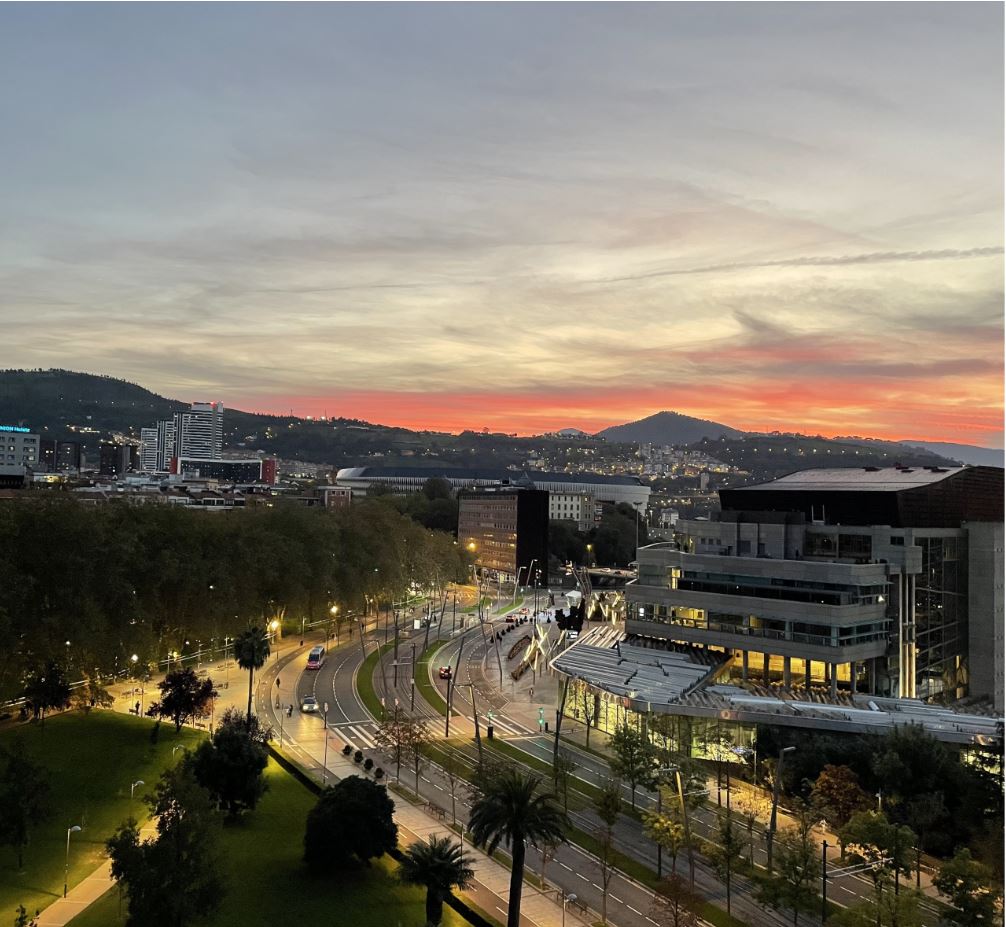 Hola Bilbao! A visit to northern Spain
In mid-October, our Next Generation Manager Larissa Wolniczak set off for Bilbao. A city that really surprises. On one side it scores with profound tradition and on the other with innovation and modernity!
The Basque capital is versatile
It takes just 15-20 minutes to get from the airport to the city centre. Here you will find the typical small bars in countless colourful alleys. All connected by a modern tram. This runs in two directions and is therefore particularly easy and uncomplicated to use. Not least because the stops are usually so centrally located that it takes less than 5 minutes to get to various activities, hotels or restaurants. Conclusion: Sustainability has been lived in Bilbao for a long time!
One of the highlights of Bilbao is definitely the Guggenheim Museum, which receives numerous visitors every day with its modern art. The structure of the building is said to be reminiscent of a ship, and the architecture inside is absolutely remarkable.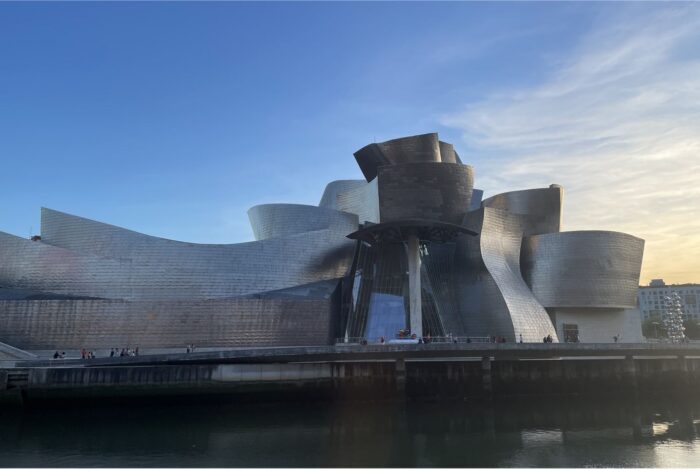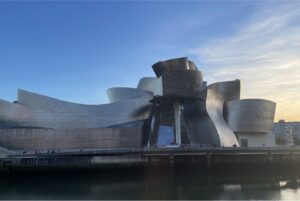 The San Mamés stadium is also impressive.
This was originally supposed to be the venue for the 2020 European Championship, but we all know what happened to that. The Basque Country decided against a game with spectators because of the pandemic and so another venue was used. In the meantime, games are again being held in the stadium at full capacity, of course with the hygiene rules in force. The stadium offers many different spaces for private events and sport has still been a real link in many event themes. In addition to the individual boxes, you can also rent the press room. This is where coaches and players are interviewed after the game.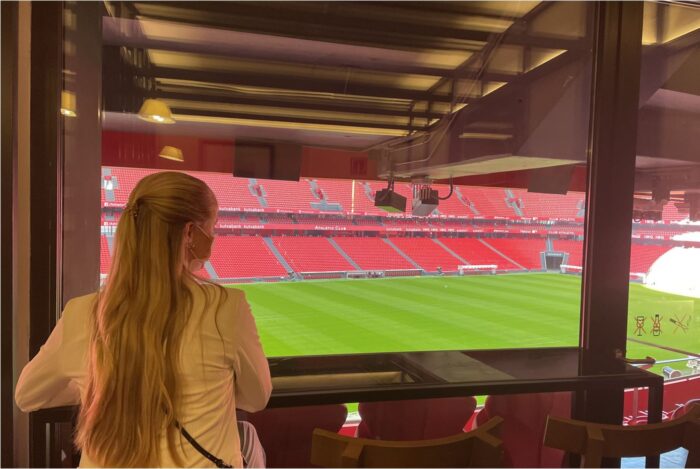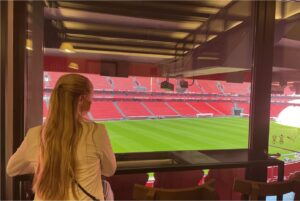 Typical of northern Spain – pintxos instead of tapas!
If you don't talk about food in northern Spain, you haven't been there. Of course you also have to talk about what you can find in practically every corner bar in Bilbao: Pintxos. The word comes from the Spanish "pinchar" and means "to spear". The little delicacies are therefore skewered with a toothpick and served as a snack with wine. These calorie bombs are certainly not a snack, but ultra delicious! The oldest pintxo is the so-called "gilda". Olives skewered with peppers, which are coated with an anchovy. Once you've worked up an appetite with the aperitif, a main course of fish or meat follows, as well as a dessert. Northern Spain has the highest concentration of top chefs in Europe. So bon appétit!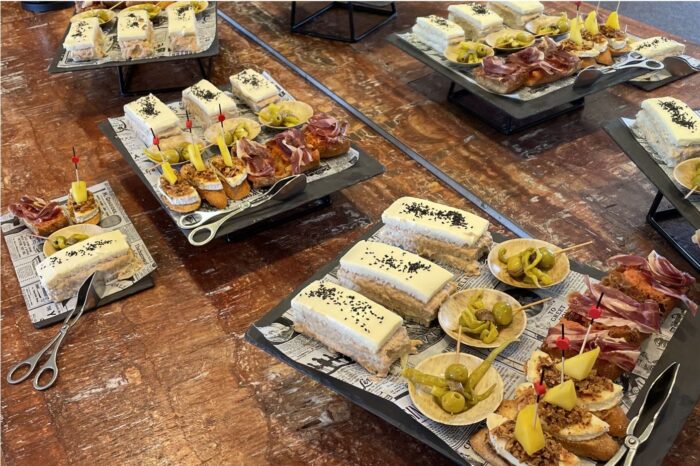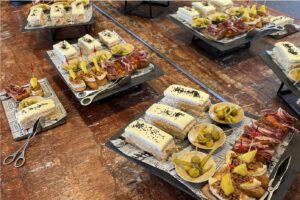 A trip to the surroundings, Gernika – a city with a great history
From the 14th to the 16th century, the respective Castilian kings travelled to Gernika to take an oath to uphold Basque liberties. With the tree of Gernika, an oak, it became the sacred city of the Basques and a symbol of freedom.
The proximity to nature can also be felt above all in the Urdaibai region. Here you can help with an environmental project and plant your own oak tree. Again, something that does justice to the theme of sustainability at events.
Things get chilled out at the Itsasmendi winery. Among other things, the Txakoli wine is produced there. It tastes better than it can be pronounced and with a view over the vines, you can taste different types and varieties of wine here.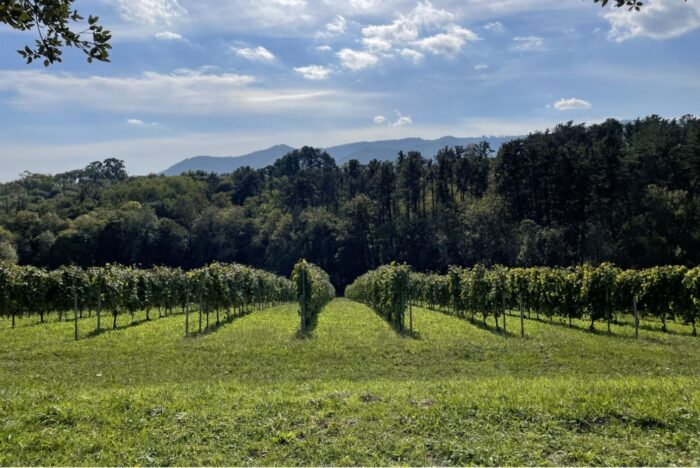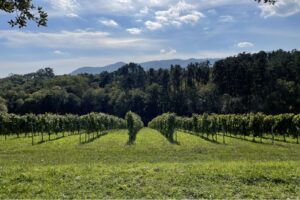 If you want a little more culture, you can take a ride on the suspension ferry at the Bay of Biscay Bridge.
It is one of the oldest in the world and has been a UNESCO World Heritage Site since 2006. While it saves residents a 20-kilometre journey, it is a real attraction for tourists and definitely worth a visit!
Finally, a conclusion and a résumé: after a long time, we were once again on the road to find the right location for our clients' events. We definitely liked Bilbao and the surrounding region. It doesn't always have to be Barcelona or Mallorca when you think about Spain. The north definitely has its charm and can be reached quickly and easily by plane.
We would be happy to put together a suitable programme, just send a short email to larissa.wolniczak@team-nice.de and you will receive a first-hand, tailor-made incentive concept!