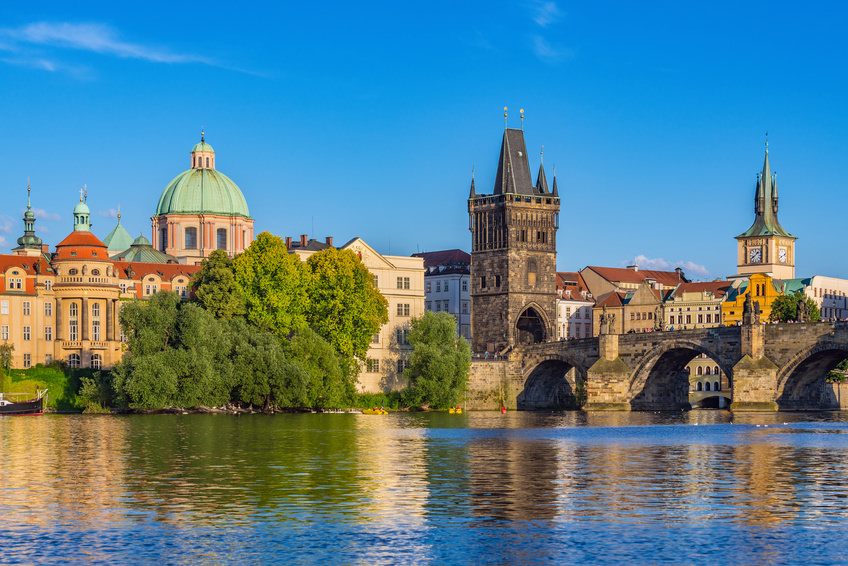 Team nice :-) on the way in Prague!
The "City of a Hundred Towers" is known for the Old Town Square with its colorful Baroque buildings, Gothic churches and the famous Charles Bridge.
nice:-) was looking for a location in the capital of the Czech Republic and explored for you the best spots and extraordinary activities on site.
Our project manager Christina Schultz visited various venues in the famous Prague Castle and was on the trail of Prague's history in the Augustinian Library and St. Thomas Church.
The variety of the rooms and the different styles characterized by the time and their inhabitants, offer the right ambience for every size of group and for every taste!
The extraordinary view over the beautiful old town of Prague makes an event in the Prague Castle unique.
Dinner right on the banks of the Vltava river in the Hergetova Cihelna restaurant or in the Kampa Park restaurant completes a day in Prague.
Part of the event scouting was also the Prague nightlife. Especially the jazz location right on the Vltava, the Jazz Dock, scores here. The live music and the extensive selection of drinks have international flair.
In order to test individual program components, a teambuilding activity with the national sport of the Czech Republic – the ice hockey – was tested.
The old town can be explored in a very special way – with scooters in quetschgelber, eye-catching color.
And if you move a lot, the reward will be perfect for you: in Prague, this will be in the form of beer. Because beer is cult in Prague. Countless beers can be tested and you can experience the cozy pub culture of the Prague scene.
Culinary some restaurants in Prague are still on the "home cooking" trip on the road. Here it is very important to know and find the right locations with the appropriate kitchen.
Christina has looked into various pots in the pots and now knows the insider tips and the places in which one is in good hands with an incentive group. With the right food and on every budget.
Are you planning an incentive trip or a convention in Prague? And is the combination of historical, modern and traditional components just right for your target group?
Then ask us, we know each otherlocally and create a sustainable concept for your event in Prague.